Professional Coffered Ceiling Installation, Macomb County, MI
Why Add a Coffered Ceiling to your Home?
If you are trying to give your home an elegant style and make it stand out from others, then adding a coffered ceiling is the right move for you! The average ceiling in Macomb County is boring and unappealing. A coffered ceiling is a pattern of trim and decorative wood that will add recesses and indications in a decorative fashion to your ceiling.
Michigan Crown Molding will craft and fabricate every part of your coffered ceiling specifically for your home to ensure it matches the style that you desire. Adding this to a fine dining room, living room, or entryway will bring an elegant and classic feel to your home.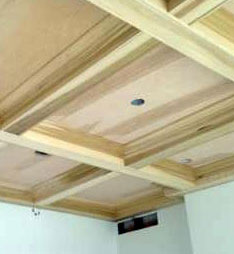 Contact us for a Free Estimate on your Coffered Ceiling Installation