Need a fireplace mantle carpenter near you?
At Michigan Crown Molding, we specialize in crafting exquisite fireplace mantels.
Our team of skilled carpenters is committed to delivering precision-crafted fireplace mantels that enhance the warmth and beauty of your home and become the centerpiece of your living spaces.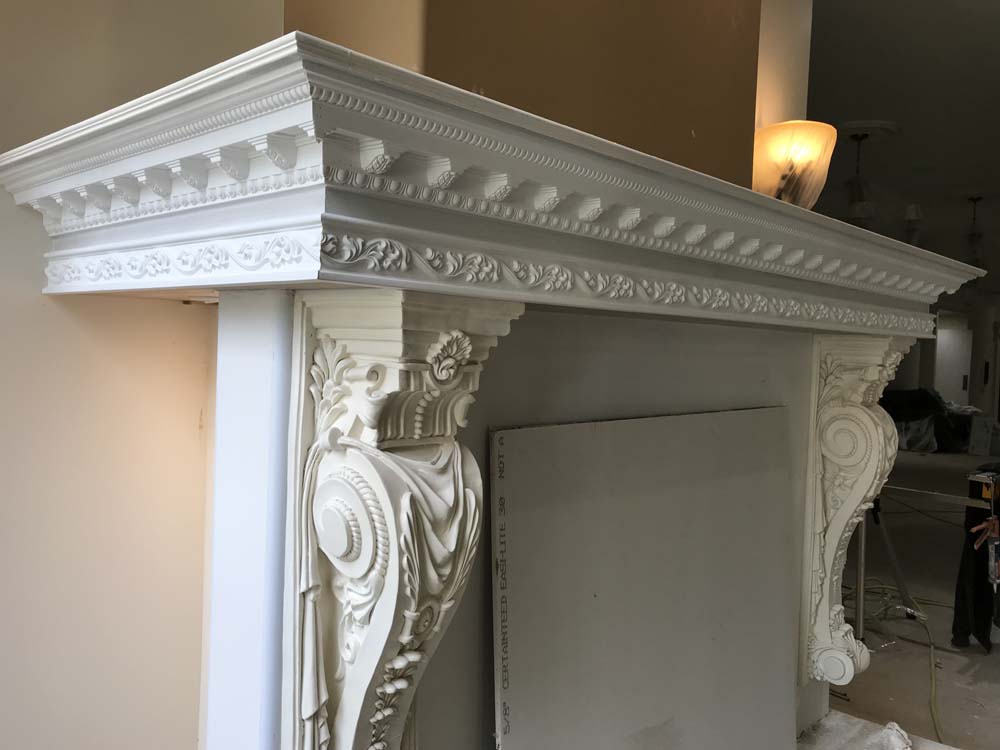 Why choose a custom fireplace mantel?
A fireplace mantel is a focal point that not only adds charm and character to your home but also creates a cozy and inviting atmosphere. Here are some compelling reasons why a custom-crafted fireplace mantel is a valuable addition to your living space:
Aesthetic Appeal: Fireplace mantels provide a platform for showcasing your personal style and decorating talents, adding a touch of elegance to any room.
Architectural Detail: They serve as architectural focal points, enhancing the overall design and structure of your living spaces.
Functional and Decorative: Fireplace mantels offer space for displaying artwork, family photos, and cherished heirlooms while providing a shelf for decorative items.
Personalization: With a custom mantel, you have the freedom to choose the materials, style, and design that best match your home's aesthetics.
Fireplace Mantel Carpentry Services:
At Michigan Crown Molding, we offer a comprehensive range of fireplace mantel carpentry services tailored to meet your specific needs:
Fireplace mantel Design: Our experts work closely with you to design the perfect fireplace mantel that complements your home's architecture and your vision.
Precision Installation: Our skilled carpenters specialize in precise fireplace mantel installation, ensuring a flawless finish every time.
Custom Creations: If you're looking for a unique touch, we can create custom fireplace mantel designs to make your home truly one-of-a-kind.
Why Choose Michigan Crown Molding?
When you choose us for your fireplace mantle carpentry needs, you're choosing a team of skilled professionals dedicated to excellence. Here's what sets us apart:
Experience: Our carpenters bring years of experience and expertise to every project.
Quality Craftsmanship: We take pride in delivering high-quality, precision-crafted coffered ceilings that exceed your expectations.
Customer Satisfaction: Your satisfaction is our top priority, and we're committed to ensuring you're thrilled with the final result.
Competitive Pricing: We offer competitive pricing without compromising the quality of our carpentry work.
Contact Michigan Crown Molding!
Ready to enhance your home with a stunning fireplace mantel?
Contact us today to schedule a consultation and start your project. We look forward to bringing your vision to life.